HOW TO INSTALL SERUM SKINS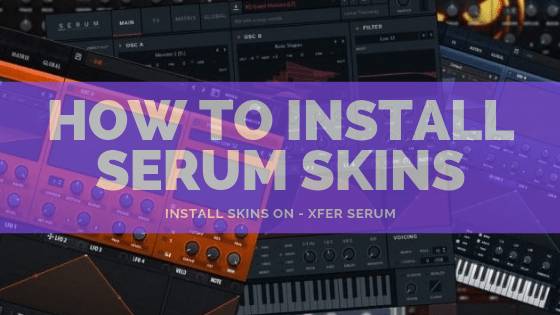 Serum is cross platform dream plugin that promises high quality sounds,with a strong vision and graphic interfaces to work with.
It has a build-in editor that facilitates real time wave-table creations and a better workflow interface.
Serum has different oscillators that manipulate the sound outputs, to give a high quality sounds. It has graphic editors to facilitate visual editing and various rack of effects such as the ADSR's, voices, distortion, flangers, phaser, compressors and EQ. With these functionalities it is easier to import, edit, morph wavetables for playback in real time. Serum creators boosts of being one of the only few synthesizers that has no artifacts in its sounds output.
This is due to their ultra high precision resampling to yielding to aggressive optimization on the oscillators.
Serum is available in Vst /AU /AAX 64 bit formats to cater for diverse needs of producers and beat makers. You can purchase the vst on Xfer records or try out their demo version.
There is more demand for Serum skins .I bet this is due to the popularity for this wavetable synthesizer.
More and more producers and designers are making countless skins. The skins come in various colors ,artist, holiday and tv show themes.
We know how tedious it can be, to look all over music sites, in search for the serum and other vst skins. So we put together this pack of 21 skins designed by various producers. In order to spark your creativity while producing music and come up with more new ideas. To download free serum skins check below.
HOW TO INSTALL SERUM SKINS
1. Download a Serum Skin or serum skin pack in a .zipped Folder!
2. Extract the folder zipped folder by double clicking on the .rar zip
3.Open the new version of Serum in your DAW e.g( Fl Studio, Reason, Logic x, Abelton)
4. Click Serum's drop down menu and select Show Serum Presets folder
5 Locate the 'Skins' Folder in your window that just popped up
6. Copy the unzipped pack of Serum Skin(s)from your download and drag and drop it into the Skins folder
7 Restart the Serum vst, and from the drop down menu select
'Rescan folders on disk'
8. Click the Serum Logo on the top left of Serum vst. Click 'Skins' and select your new favorite installed skin.
Enjoy your skins and making your beats!
If you enjoyed this guide on how to install serum skins. please leave a comment below and share this article with others.
"Click the Serum Logo on the top left of Serum vst. Click 'Skins' and select your new favorite installed skin."
Requirements
You need to have the latest xfer records serum updates for you to use the skins.
CPU with SSE2
Windows 7 SP1, or Mac OS X 10.8 or greater
64 bit VST2.4 , AU or AAX compatible host software.